Cookie Policy
This is the Cookie Policy for Thérésa Oost, accessible from www.theresaoost.com.
What Are Cookies
As is common practice with almost all professional websites this website uses cookies, which are tiny files that are downloaded to your computer, to improve your experience. This page describes what information they gather, how we use it and why we sometimes need to store these cookies. We will also share how you can prevent these cookies from being stored however this may downgrade or 'break' certain elements of the websites functionality.
For more general information on cookies see the Wikipedia article on HTTP Cookies.
How We Use Cookies
We use cookies for a variety of reasons detailed below. Unfortunately in most cases there are no industry standard options for disabling cookies without completely disabling the functionality and features they add to this website. It is recommended that you leave on all cookies if you are not sure whether you need them or not in case they are used to provide a service that you use.
Disabling Cookies
You can prevent the setting of cookies by adjusting the settings on your browser (see your browser Help for how to do this). Be aware that disabling cookies will affect the functionality of this and many other websites that you visit. Disabling cookies will usually result in also disabling certain functionality and features of the this website. Therefore it is recommended that you do not disable cookies.
The Cookies We Set
Account related cookies

If you create an account with us then we will use cookies for the management of the signup process and general administration. These cookies will usually be deleted when you log out however in some cases they may remain afterwards to remember your website preferences when logged out.

Login related cookies

We use cookies when you are logged in so that we can remember this fact. This prevents you from having to log in every single time you visit a new page. These cookies are typically removed or cleared when you log out to ensure that you can only access restricted features and areas when logged in.

Orders processing related cookies

This website offers e-commerce or payment facilities and some cookies are essential to ensure that your order is remembered between pages so that we can process it properly.

Forms related cookies

When you submit data to through a form such as those found on contact pages or comment forms cookies may be set to remember your user details for future correspondence.

Website preferences cookies

In order to provide you with a great experience on this website we provide the functionality to set your preferences for how this website runs when you use it. In order to remember your preferences we need to set cookies so that this information can be called whenever you interact with a page is affected by your preferences.
Third Party Cookies
In some special cases we also use cookies provided by trusted third parties. The following section details which third party cookies you might encounter through this website.
This website uses Google Analytics which is one of the most widespread and trusted analytics solution on the web for helping us to understand how you use the website and ways that we can improve your experience. These cookies may track things such as how long you spend on the website and the pages that you visit so we can continue to produce engaging content.

For more information on Google Analytics cookies, see the official Google Analytics page.

The Google AdSense service we use to serve advertising uses a DoubleClick cookie to serve more relevant ads across the web and limit the number of times that a given ad is shown to you.

For more information on Google AdSense see the official Google AdSense privacy FAQ.

We also use social media buttons and/or plugins on this website that allow you to connect with your social network in various ways. For these to work the following socialmedia websites including; Facebook, LinkedIn, YouTube, Twitter, Instagram, will set cookies through our website which may be used to enhance your profile on their website or contribute to the data they hold for various purposes outlined in their respective privacy policies.
More Information
Hopefully that has clarified things for you and as was previously mentioned if there is something that you aren't sure whether you need or not it's usually safer to leave cookies enabled in case it does interact with one of the features you use on our website.

Learning Lab - Health & Care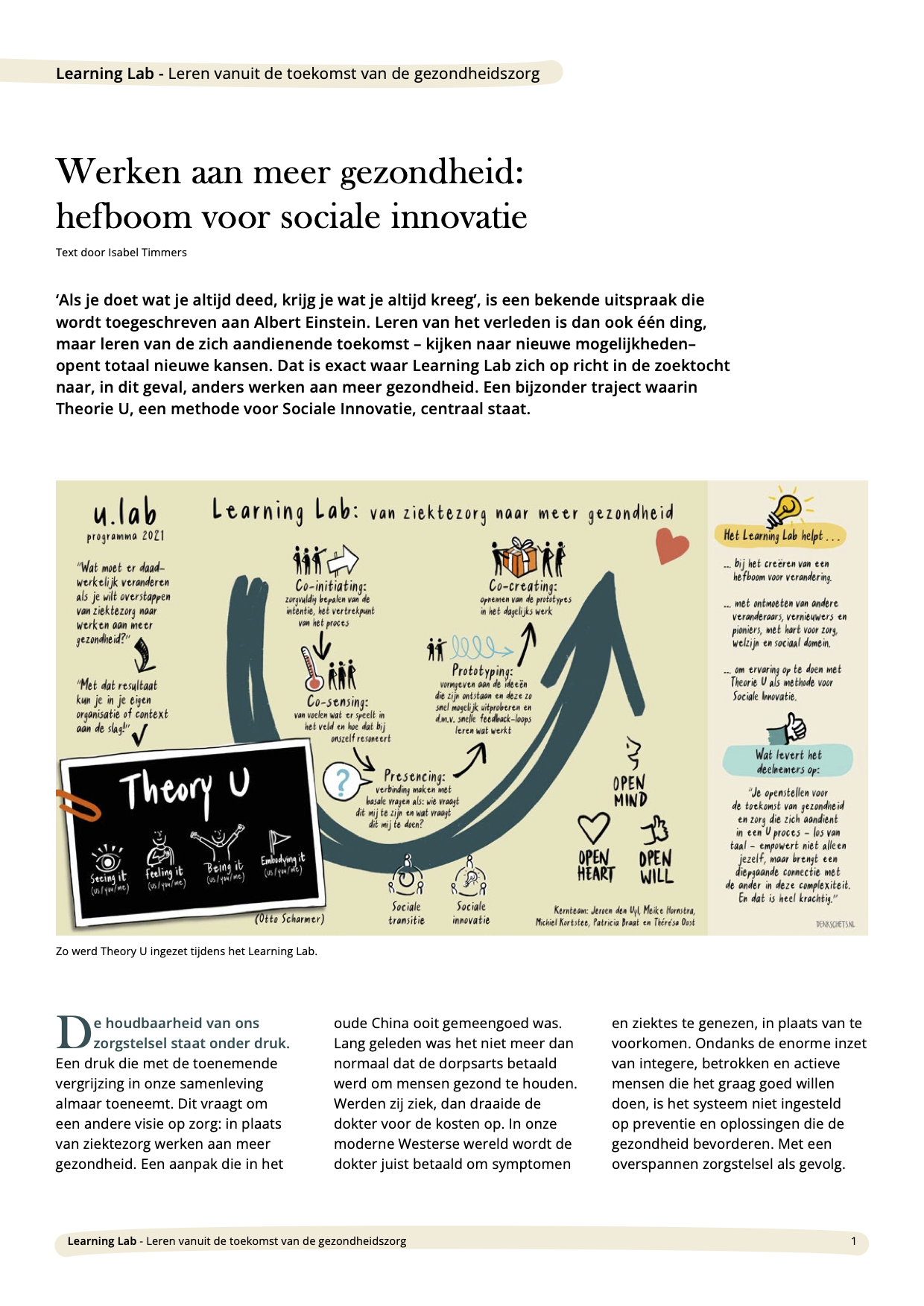 Jeroen den Uyl, Meike Hornstra, Michiel Kortstee, Patricia Braat, en Thérésa Oost
Communiceren met liefde
Thérésa Oost en Antoinette Gerichhausen
Al enige tijd verwonderen wij ons over de macht van taal. Hoe het werelden en mensen verdeeld in zij die meer taalvaardig zijn en zij die dat minder of niet zijn. Maar dat wil niet zeggen dat zij die de macht over taal hebben ook de macht over de samenleving hebben. Wij plegen hierin geen wetenschappelijk onderzoek, maar praten graag met elkaar over onze vragen en ideeën hierover en deze delen we ook weer graag met jou.
"Ik ben hier, het gaat goed met me."
"Ik hou van je en ik wil dat het goed met je gaat."
Met minder woorden meer zeggen
Thérésa Oost en Antoinette Gerichhausen
Even terug naar onze over mondelinge communicatie. Voor een goede communicatie, kwamen we tot de conclusie, hebben we handen en voeten nodig, moeten we ruiswoorden vermijden en aandacht hebben voor de context. Aandacht voor de context betekent dat we de context, de situatie, sfeer, achtergrond, omstandigheid, willen leren kennen ter wille van een goede communicatie. Maar hoe krijgen we de context helder als er gecommuniceerd wordt tussen volwassene en kind, tussen werkgever en werknemer, tussen directeur en medewerker, leerkracht en leerling? Met andere woorden wat gebeurt er in communicatie in een ongelijke verhouding tussen de sprekers? Is de context dan wel helder te krijgen of gaat één van de sprekers ervanuit die context te kennen? Er zijn veel momenten te bedenken waarbij woorden niet aankomen op dezelfde wijze dan ze bedoeld zijn omdat de context toch anders blijkt bij een van de sprekers of bij beide. Hoe communiceren we dan beter?
"Zeg het zonder woorden". Communicatie met handen en voeten?
Thérésa Oost en Antoinette Gerichhausen
Als mensen zijn we geëvolueerd tot wezens die talig zijn. Veel leven op aarde communiceert met elkaar, maar wij zijn de enige soort die dat doet met woorden. Hoewel we met woorden goed kunnen duiden, ontstaat er ook veel miscommunicatie door het gebruik van woorden die ruis veroorzaken. En mochten we graag Engels- en anderstalige woorden toe willen voegen aan ons Nederlands gesprek, dan kan dat nog meer verstorend werken op de ontvanger van de boodschap.
Frisdenker
Frisdenkers zijn essentieel voor vernieuwing. Mensen die los van de bestaande kaders kunnen denken, en met nieuwe inzichten en oplossingen komen voor vraagstukken.

Organisatieluisteraar
Human Development, transities en talentontwikkeling:
Inspiratiesessies
Innovatiesessies
Brainstormsessies
Interim-functies
Facilitator
Een goede facilitator is nuttig wanneer een groep probeert om te gaan met nieuwe of moeilijke kwesties. Als je de rol van facilitator accepteert dien je neutraal te zijn.

Gave Dingen Doen
Voor organisaties die stappen willen zetten:
Persoonlijke krachten ontdekken en inzetten
Energie van groepen afstemmen, stimuleren en balanceren
Faciliteren van co-creatie processen
Creatieve technieken leren en toepassen
Kracht van samenwerking naar boven halen
Duurzaam stimuleren, motiveren en enthousiasmeren van je omgeving